Each person has two copies of the genetic materials, one copy inherited from each parent. Children inherit one copy of each gene from each parent.
Some people carry changes in a gene which can mean there is a chance that they may have a child with a genetic condition.
Many genetic diseases are recessive, meaning the disease is caused by inheriting a mutation at the same DNA location from both parents. If a parent carries a mutation in one of the two copies of the DNA, he/she is a carrier of the genetic disease.
Chances of being a Carrier:A carrier has a 50% chance of passing the same mutation to the child. If both parents are carriers, the child will have a 25% chance of inheriting both copies of the mutation, thus leading to the development of the genetic disease. Some inherited diseases are more common in certain ethnic groups and in people with a family history of genetic disorders.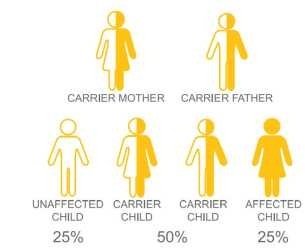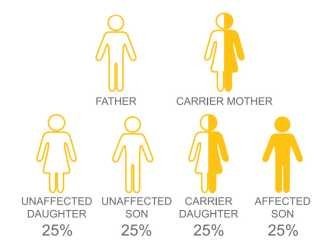 Carrier screening is done to screen genetic disorders carried by any of the parent that include cystic fibrosis, sickle cell disease, thalassemia, and Tay-Sachs disease.
Most of these conditions are rare, but it is studied that as much as 24 percent of the patients tested are carriers of at least one mutation. And the average risk of having a child with one of these diseases is higher than that of having a child with Down syndrome or a neural tube defect.
What causes Genetic Disorders?
A genetic disorder is a disease that is caused by a change, or mutation, in an individual's DNA sequence.
Genetic conditions are caused by changes or mutations in genes during their replication of due to some external factors like environmental factors, cigarette smoke and/or exposure to radiation, which cause changes in the gene sequence.
Depending on where these mutations occur, they can have little or no effect, or may profoundly alter the biology of cells in our body, resulting in a genetic disorder(s) like Cystic Fibrosis, Thalassemia, Fragile X Syndrome, Tay-Sachs disease.
Babies inherit one copy of each gene from each parent. Some people carry changes in a gene which can mean there is a chance that they may have a child with a genetic condition.
Who should have Carrier Screening?
Everyone is at risk to have a child with a genetic disease, even if they have no family history or disease symptoms. In fact, such cases commonly occur in families with no history of genetic disease. Because of this, professional medical organizations recommend carrier screening for all individuals who are planning a pregnancy, early in pregnancy, or undergoing fertility treatment.
Carrier screening is the only way to find out if you carry mutations that may predispose your child to a genetic condition. Having healthy children does not necessarily mean that you and your partner are not carriers of a genetic condition. If you have already had a child, and are planning to have more children, carrier screening would still be recommended.
When should You have Carrier Screening?
The best time to pursue carrier screening is before pregnancy, as this will give you more reproductive options. However, carrier screening is also commonly performed during pregnancy. Because results do not change over time, you may apply the knowledge from your screening to both current and future pregnancies.
What Options you can choose if you find out that you are a carrier?
If you find out before you're pregnant, that you are a carrier of certain disease, you may decide to try
Artificial insemination with sperm from a donor who is not a carrier
In-vitro fertilization, with special testing of the embryo before it's implanted or
Some couples decide to adopt a child instead or not to have children at all.
If you're already pregnant and want carrier screening, it should be done as early as possible during your pregnancy.
Once you have got yourself screened for a carrier, this will give you time to counsel with your healthcare professionals about the possibility of your baby having one of these disorders and figure out whether you want to have diagnostic testing.
Early screening may also help you to take early treatment in case your child is affected. You can seek prior consultation with the right medical specialists, to start treating your child after delivery.